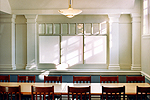 Lesley University Commons, detail


Our practice has always been divided equally between architecture and urban design/planning projects. We enjoy working at these different scales; each perspective helps the other succeed. Our urban design/planning perspective helps our buildings fit better into the townscape and allows them to take advantage of planning opportunities. Conversely, our architectural experience in the practicalities of development, makes our master plans buildable and logical. We have the proven ability to:
Design urban projects that fit in handsomely with adjacent buildings, neighborhoods and open spaces, and maximize their potential;
Design "green" buildings that gently impact the land and enhance the qualities of important natural sites;
Successfully work with diverse business and residential neighborhoods, and solve multi - client, complex economic development problems;
Develop planning and architectural guidelines and design reviews that work;
Develop public spirited buildings and civic spaces that look, feel, and work like they have always been there.

architecture urban design implementation
222 Third Street, Suite 3212
Cambridge, Massachusetts 02142
Telephone 617.494.9559
Facsimile 617.621.1477
e-mali dcarlone@CarloneAssociates.com